TAYLOR SWIFT AND SABRINA CARPENTER STUN AT 2019 BILLBOARD MUSIC AWARDS
Stars galore lined the red carpets, getting photos taken, and chatting up interviewers. Two standout celebrities from the night were Taylor Swift and Sabrina Carpenter. Both blonde beauties garnered a ton of attention for their bold fashion, hair, and makeup choices, for good reason! From cat eyes to pretty pastels, we've got the full breakdown for you on each of their looks. So keep reading to see how to get Taylor Swift and Sabrina Carpenter's hair, makeup, and outfits from the 2019 BBMAs!
Taylor Swift BMA 2019 Hair
While on the Billboard carpet, Taylor rocked an intricate braided up-do, complete with her signature full bangs. There was a little twist to her hair though – she weaved in a couple purple extensions into her hairstyle, which came through on profile shots. This specific look was crafted by Jemma Muradian, and the products that were used included Loreal Color, Kerastase for prep, and Oribe for style.
She didn't stop there though: during her performance of "ME!", Taylor rocked a pink dip-dyed ponytail! She pulled it back into a mid-height, slightly texturized ponytail, and left her bangs alone, albeit they had a slight wispier appearance once her performance ended. The waves were created from the braids earlier in the night, which made for an easy style switch-up!
Taylor Swift BMA 2019 Makeup
Taylor's makeup artist Lorrie Turk gave Taylor her signature cat eye, but added in a shimmery lavender eyeshadow to match her dress. The same purple shadow was put onto her lower lash lines too, which added a tad bit of smokiness without having to use black. Her lip was a muted rose, which balanced out her eyes with just enough color.
Now, for her onstage performance, she upped the ante with a brighter, more fuchsia pink lipstick, and it appeared that she toned down the eyeshadow in lieu of that. Perfect choice, considering her lipstick then matched her pink ponytail. One affordable option that Taylor wears? Covergirl's "Garnet Flame" Lipstick.
Taylor Swift BMA 2019 Outfit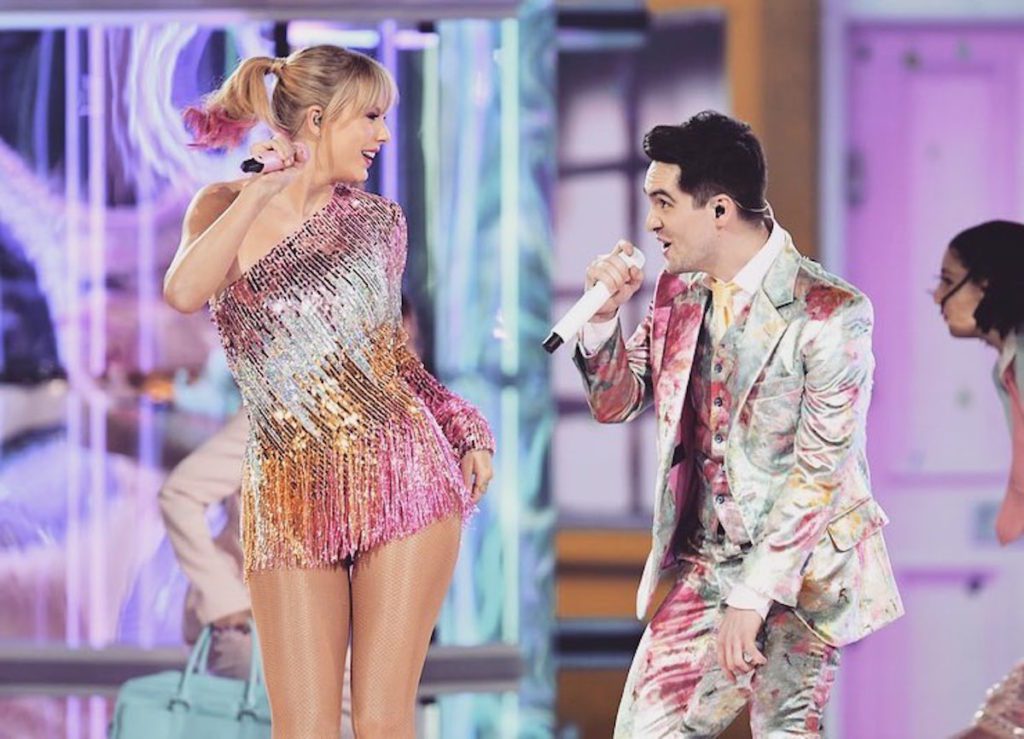 Taylor's pretty lilac mini dress with lace inserts was by Raisa and Vanessa from their Spring 2019 collection. And get this: you can actually buy it! It's available online at Raisa and Vanessa's official website, so get it before it's gone! Her shoes were silver Casadei heels.
Her stage look was custom-made by stylist Joseph Cassell, but if you really want to replicate the rainbow mini dress, try this similar (and affordable!)
Sabrina Carpenter BMA 2019 Hair
Sabrina's hairdresser, Scott King, did a texturized look for her hair, giving her those 'mermaid waves' everyone's after. In order to create that look, a little bit of bend was put in the hair to create that 'bedhead' look. It's intentionally undone looking, but not super messy.
A soft, slightly off-center part gave Sabrina the option to toss one side of her hair over her shoulder, which added much needed movement. The volume was made possible by Laced Hair Extensions, which are regularly used on Sabrina for events.
Sabrina Carpenter BMA 2019 Hair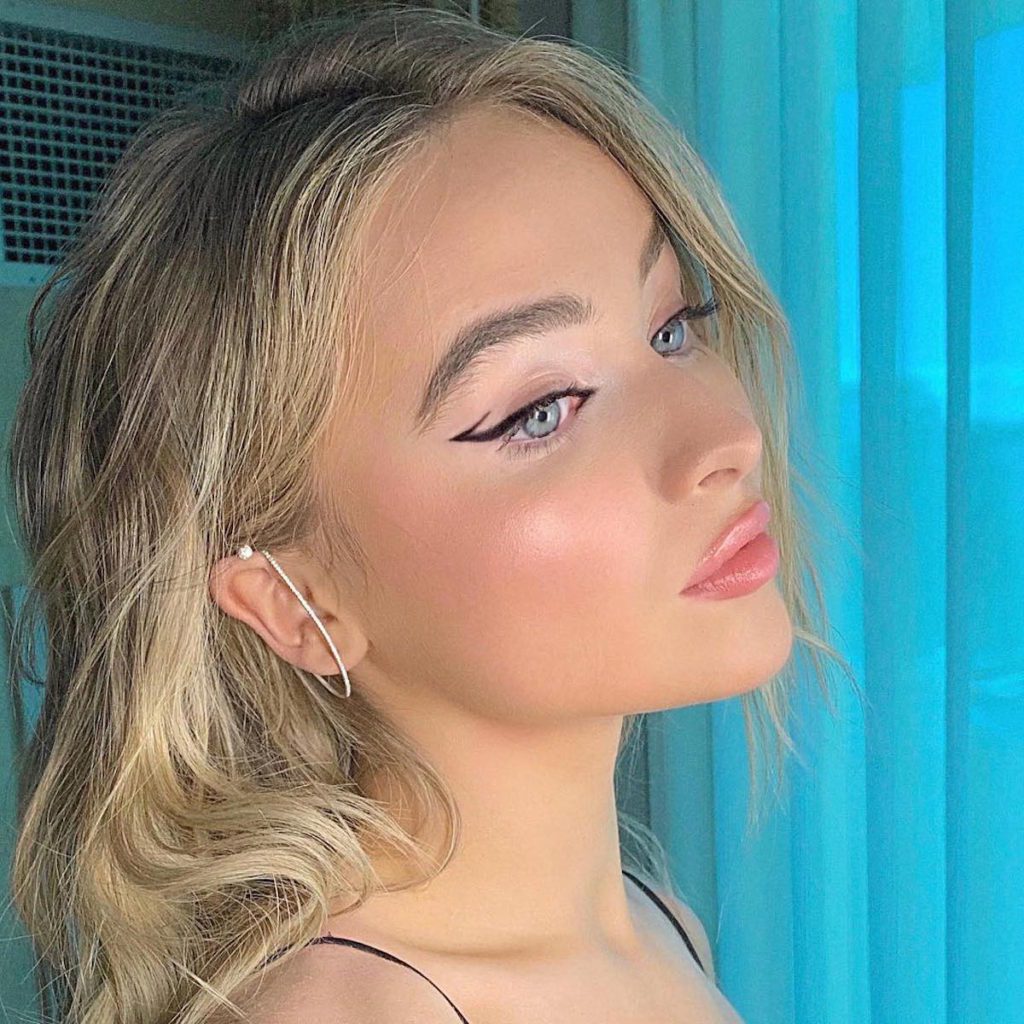 Sabrina Carpenter BMA 2019 Outfit
While Sabrina's exact jumpsuit is sold-out; the brand (Rasario) has a pair of black satin pants that mimic the lower half of her jumpsuit. Paired with this silver sequin cropped cami from NastyGalwould give you a very close match to Sabrina's outfit.
Now, if you actually wanted a sequined bodice jumpsuit, Express has one featuring black sequins, which gets you a similar look too. Sabrina accessorized her outfit with an ear cuff (like Taylor!)
---
The headless Met Gala 2019 fashion
Celebrities of all shapes, sizes and credibility showed up at New York's annual Met Gala on May 6 (May 7, Singapore morning), dressed to impress. Or at least make an impression.
The annual by-invitation-only event, is a benefit for New York's Metropolitan Museum of Art, and the dress code to match the evening's theme: Camp: Notes on Fashion.
Here's a look at the outfits we are delighted to say took the theme very seriously.
---

"America's Got Talent" judge Julianne Hough's skincare routine, must-have makeup, and what she always has in her bag!
She's a dancer, wife, actress, and singer, but no matter how busy Julianne Hough' life is, she always manages to look radiant! The DWTS champ and newly appointed judge on America's Got Talent takes risks with her hair and makeup, which is what makes it so fun to see what look she'll try next! After making headlines in the news about getting hit in the neck with Paula Abdul's hat at the BBMA's performance Julianne showed her good humor in it all.
SKINCARE ROUTINE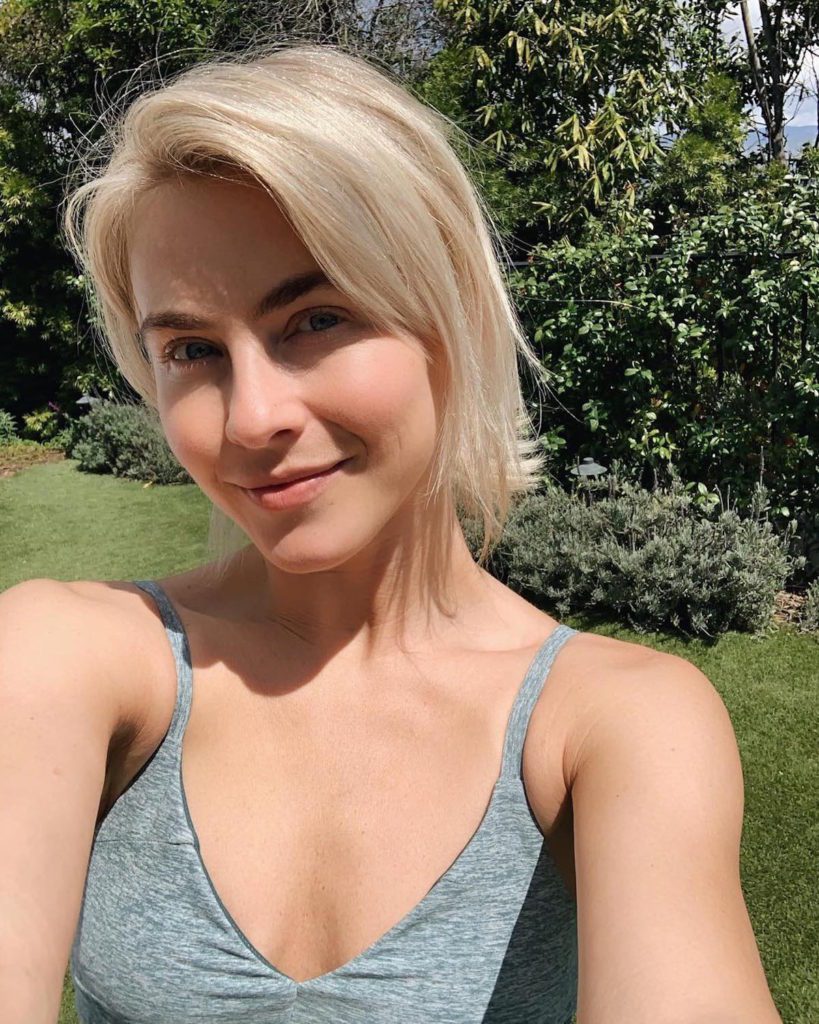 BEAUTY MUST HAVES
Julianne's go-to mascara is Loreal's Voluminous, with one specific: it has to be the "black/brown" shade. Since her lashes are blonde, black looks too harsh for her, so she chooses to do the slightly less intense shade.
As for the rest of her eye makeup, she likes doing coppers, and bronzes with hints of red or orange in them to help make her ice blue eyes stand out. A favorite palette she uses? Urban Decay's (Original) NAKED Palette. You can get yours from Amazon.
As for her face makeup, Julianne loves Chanel's Vitalumiere Aqua as her foundation; and Kevin Aucoin's Celestial Bronzer, Contour, and Highlighting Powder to sculpt and give shine to the skin.
She's not one for heavy lip products, opting for a lip balm from La Mer.
As for her hair, since Julianne regularly gets it colored, she relies on damage control products, likeJoico's Defy Damage Protective Shield, which she uses if she has to blow dry. She prefers to let her hair air dry to cut down on heat exposure.
Her go-to hairstyles are down, in a low messy ponytail, or when her hair's looking a little less than great, she slicks it all back.
ON THE GO ESSENTIALS